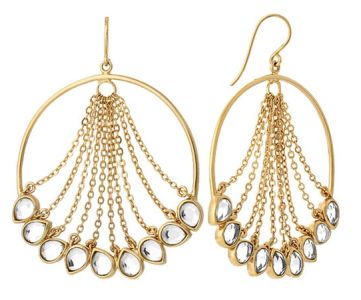 These elegant earrings are a twist on a chandelier and a hoop. A cascade of golden chains leading to crystals: hoop earrings have never been so exciting. But with the crystals sparking at the base, the pair looks more like a chandelier style. Classic yet unique and exactly what everyday earrings need to be.
It's not surprising something this eye catching would catch the eye of Jennifer Lopez. Her glamorous, glitzy style is anything but bland. And her talent is definitely out of the ordinary! She would embrace a twist on a traditional style, and we don't blame her. The best part is the price. Isn't jewelry so much more fun when you get all the bang without the buck?
On Isharya for $182.