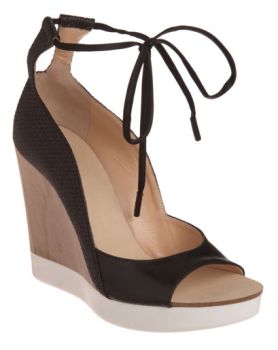 Softness comes to sculpture with this architectural beauty. This is quintessential Jil Sander: a strong sense of minimalism delivering a high sense of stylistic integrity. The mix of almond-y wood, accompanied by a white rubber sole, and black linen makes for an irresistible combo. One that's not just cute, it's comfy. The cushy platform delivers some sportiness that will keep the spring in your step, while the caressing upper panels are chic all the way.
The vamp strap is buttery soft; the scalloped shape hugs your feet. I'm always a sucker for a sweet ankle strap, and this one makes for a perfectly dainty topper, but the way it attaches is a bit tricky. With little to hold it up, it tends to slip and slink down your Achilles. But it's worth it. I'm willing to mind the strap for sandals this select. At Barneys New York for $595.
Pair with: A dress that pops with cool suede of bright Kelly green. See by Chloé's retro mini is a welcome revamp of the spring sundress. On Net-a-Porter
for $765.