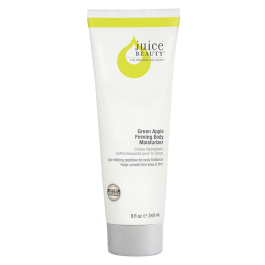 I'll just get out with it: I currently have gross dry patches on my upper arm, elbows, and knees. I'm not sure if it's all the recent traveling (in the last six weeks, I have flown to Italy twice, and I also spent a week in NYC in between for Fashion Week), but something has been leaving my limbs deeply dehydrated.
I love Juice Beauty's organic products, so I started using this ultra-rich firming body cream made of jojoba and shea butter. Their Green Apple moisturizer also contains organic brightening properties of apples and lemons, which are naturally packed with Vitamin C.
I love the way it feels – quenching! Revitalizing! – but it does leave a residue, so be careful when you put on silk clothing. I prefer using it at night before I sleep, so I don't have to worry and can slather it on decadently! This serious stuff works best if you use an exfoliator regularly in the shower, as well. That way the cream doesn't just sit on your skin and can absorb properly.
Green apples, in. Gross, dry patches, on the way out!
At Juice Beauty for $18.