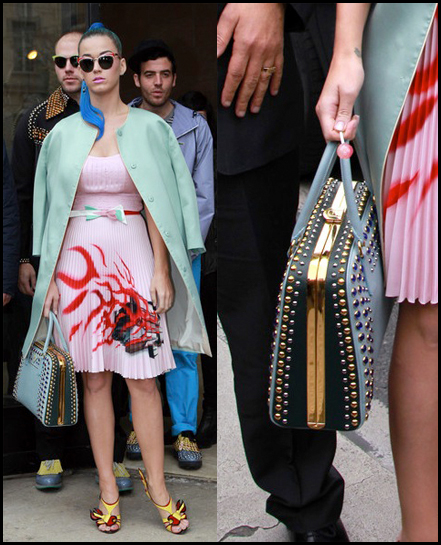 Katy might have looked like her usually retro-gone-walk self at the Miu Miu show in Paris yesterday…Jetsons-perfect blue ponytail? Check. Bursts of contrasting pastel colors devised to stop traffic? Check. Prada's flame-tastic sandals? Check. Sweet, vintage-inspired dress with a thoroughly kooky twist? Double check. Despite all that's going on here (and somehow, against all odds, she makes it work – normally, I would say pick one of these items and keep the rest simple!), I can't take my gaze from her super-studded bag.
Katy was appropriately dressed in Miuccia's designs from head to toe, and this Prada frame-top bag (out of the Spring 2012 collection) might not be their most shocking to date – the ladylike top-handle a rock 'n' roll edge is an age-old theme. But it's a concept that works and it's certainly satisfying, especially in this dusty blue-and-forest green combo.
I appreciate Katy's commitment to the rockabilly-meets-lady-who-lunches look, even if it's against my better judgement. What do you think?
Achieve a similar, though un-studded look with Miu Miu's rose-embellished leather bag. With pale hues and a pert metal top handle, it screams spring fling.
Available for pre-order at Bergdorf Goodman for $1,960 (expect delivery by April 9th).