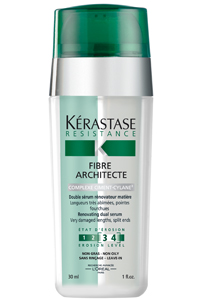 You all know my preference for hair treatments by now: oil, oil, and more oil. All that oil leaves my hair soft and shiny, but there's a downside: it makes it impossible to shampoo only twice a week (as I like to do).
So I'm thrilled to have recently discovered the newly released Fibre Architecte. Katie, an amazing Kérastase hair stylist from Newport Beach, introduced it to me over Fashion Week when the Kérastase hair squad sent her to beautify my hair before the Victoria Beckham show. I've been buying their products from my hair salon for a while – I was told to combine three different products after shampooing to ensure glossy hair. Apparently, I've been buying too many wrong treatments when all I needed was the single miracle that is called Fibre Architecte.
This dual-serum – it's both a repairing cream and binding serum – instantly smoothes and restores damaged lengths and split-ends. Intra-Cylane strengthens and holds strands, Pro-Keratin fills in gaps, and Ceramides smooth the surfaces. It's perfect for my long, permed, and colored hair! And it couldn't be easier to apply: just rub it in to dry hair, mid-length to end and seal with heat.
This is the only full-sized beauty product I brought with me to Milan Fashion Week (I travel with tiny travel sizes), and for good reason – you must try this! At Kérastase Paris for $42.