It's Marc's world, damn it, and we are just lucky to live in it! This time, he is taking us on a trip. So to speak. Marc Jacobs certainly had travel on the mind for Fall, but we're not moving forward in a literal sense. After all, Louis Vuitton was founded in the nineteenth century, so why not pay homage to a more romantic era? Hop on the Louis Vuitton Express for a chic ride, but don't expect Hogwarts at the end of the trip.
Marc was influenced by the great Industrial Revolution – during the rise of the steam engine, the time when the fantasy journeying to new lands was suddenly an accessible reality. His take brought us a parade of wildly whimsical and quirky looks, loads of cropped pants and big, flared coats topped with 6″ hats (a squished design created by Stephen Jones, of course). Beneath all the dazzle and showmanship lay an impressive collection of bags: porters (I need one please!) followed our "modern" ladies, toting suitcases, doctor's bags, and duffels galore.
Exotic skin took the spotlight in the form of crocodile hatboxes and bright-colored minks. Glittering appliqués, smart patchworks, and oxblood-tinged red leathers all stimulated the eye, and the timeless Speedy style has been updated with buckles and monogrammed with fur. While some of the vivacious materials and colors uplifted, the structured briefcase-style bags posed a somber contrast to the dramatic clothes, shoes and hats. Hop aboard the train: it's a wild, bumpy ride and it's well worth the trip.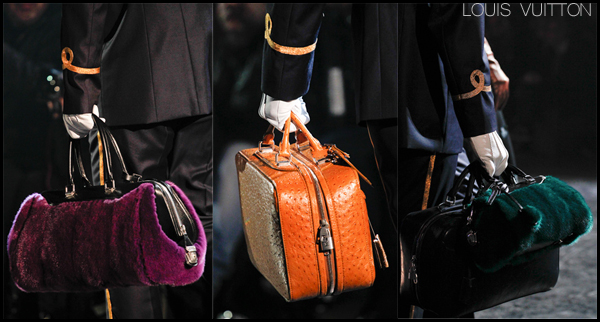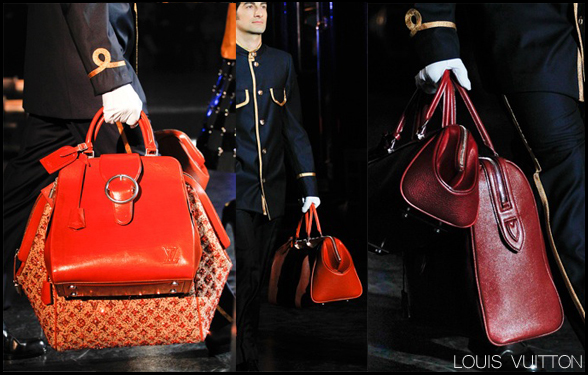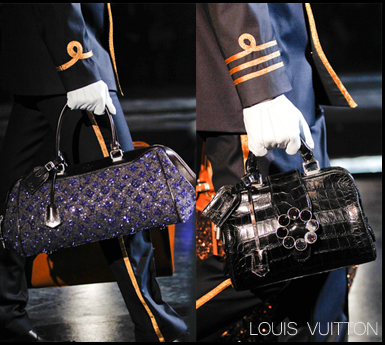 Photos courtesy of Style.com.