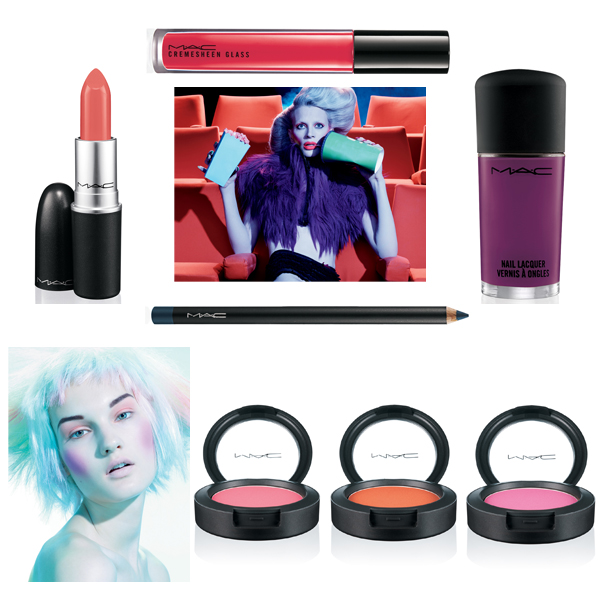 MAC knows what I crave for spring: flushed cheeks and Technicolor hues to have some fun with! Well, mostly that rosy glow, but the Reel Sexy collection does appeal to my inner little girl who loves to play dress up.
More importantly, I love bright blushes. The Très Cheek collection of six powder Powerblushes ($20 each) is richly pigmented, so you can give your spring face a colorblocking angle. Wear them sheer or build a burst of glow. My favorites are the pumped up hues, for one sweep of true color: Peony Petal (a hot, blue-based pink), Lovecloud (classic bright pink), and the quirky Modern Mandarin (sultry red-orange).
The Reel Sexy collection, spanning widely from Cremesheen Glass to Pro Palette eye shadow duos to Mineralize Skinfinish, is inspired by pulpy cinema and fluorescent, electric colors.
Introduced via a rather unsettling video featuring Kristen McMenamy, this line, filled with violets, teals, and corals, will appeal to Gaga-types who prefer "wild" over "pretty."
The more wearable items? Nail lacquer ($15) in Vivid Effect, an orange-coral, will look yummy on tan toes. Compliment it with Reel Sexy (light-bright coral) or Watch Me Simmer (bright pink-orange) lipstick ($14.50). I also might play around with the new eye kohls ($15), less of a commitment than say, deep turquoise eye shadow! Heirloom (metallic grey-lavender), Resort (deep plum), and Hyacinth (dirtied blue), can infuse a subtle touch of rich color.
Très Cheek blushes, available April 5, 2012 through May 3, 2012, and Reel Sexy collection, available April 5, 2012 through May 24, 2012, at MAC.