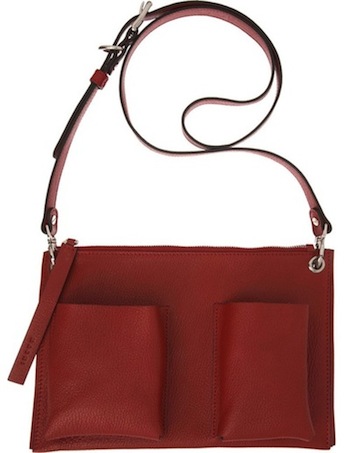 Instead of for weapons, like the apron hair stylists wear, this Marni Bandoleer is for your essentials that must be kept within a second's reach. A slim zip top compartment with 4 ample outer pockets (yes, double pockets on both sides) this is a pick pocketer's dream bag so city girls beware. In fact, stay away from crowds all together when wearing this.
I am an open bag kind of girl- I like quick access to my necessities and I like the versatility of one shoulder or crossbody. But this might be a little too inviting and prone to things accidentally falling out. (Note the nice-sized pouches could be a bit too gaping to secure your belongings.) This bag is a good idea but it just doesn't function. My idea of the best use for this bag: This is perfect for new moms who need bottles, bibs, pacifiers, and Purell all within a hand's reach. (And usually all at the same time!)
Marni Bandoleer Grommet Bag at Barneys New York for $870.