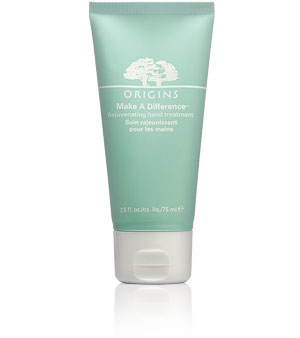 Want to hear the scariest thing? Like, ever? Hands show your age more than any other part of your body and they DO NOT lie. You cannot get plastic surgery to reverse the damage. So even if your face is taught and firm, one look at your telltale hands and you might as well have blown that $20,000 facelift at the craps tables in Vegas. I am actually scaring myself because even though I wash my hands like 50 times a day, I don't properly moisturize. Yes, I know I'm supposed to put lotion on after every wash, but that is just not practical.
Clearly, even though I think about this stuff, I am not OCD. I wish I were just a little bit OCD! I would have a neater house, but I have kids and I love to cook so I'm always in the kitchen doing something that requires lots of hand-washing. Sometimes I glance down at my dry, cracked hands and I go into sheer panic! Sure, I have hand creams galore, but every once in awhile, I need a serious boost of major help. That's why I bought two of these Origins Rejuvenating hand treatments: one for the car and one for my bag, so they are always accessible.
This product isn't just a moisturizer. It reverses trauma caused by over-dehydration, repairs UV damage, and forms a protective layer against further abuse. Aside from a dry, wrinkly appearance, signs of aging include dark spots and uneven tone. This stuff evens the complexion and brightens dark spots, too! It also improves your skin's texture, so you suddenly find yourself with the kind of smooth hands kids have.
After just one use, you can see the difference. After a week of continued use, you won't even recognize your own hands; even my always-dry cuticles are looking better. Origins is a go-to favorite for me, anyway. I love their natural ingredients and formulations for sensitive skin, and their scents are always so garden-y fresh. This one smells like a blooming herb garden – youth and beauty! At Origins for $15 (for 1.7 oz.) or $19.50 (2.5 oz.).