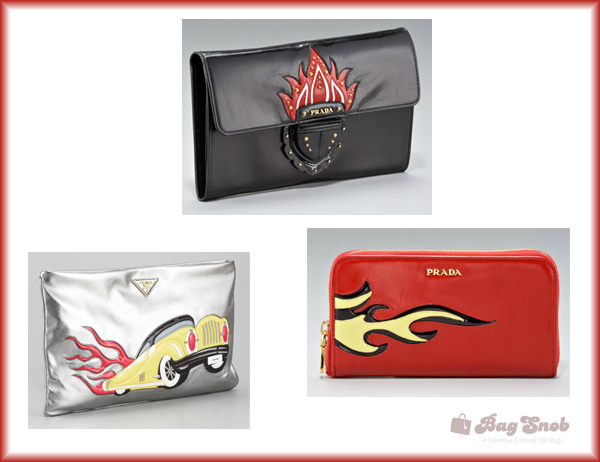 Prada's gawk-worthy spring shoes might look sizzling hot, what with all those three-dimensional flames bursting from the heels, but they're not exactly, you know, wearable. The bags out of the runway collection, on the other hand, are a much better approach to this pulp-fiction theme – you can hop on board the racetrack without going all out.
Tattoo-inspired flames are on the subtle side (it's all relative), with a coat-of-arms-style emblem at the closure of the Flame clutch ($580). Or if you prefer to keep your fire contained, opt for the engine-red continental wallet ($580), for a flash of trendiness when you open your tote.
A retro car that's either in the midst of a Grease-style drag race or on the run from the law might sound like a completely loco concept for a clutch. But Miuccia's vivid imagination makes a conversation piece out of an otherwise simple metallic pouch ($895). Ready, set, go!
At Neiman Marcus (Clutches are available for pre-order and expected to ship by April 9th).