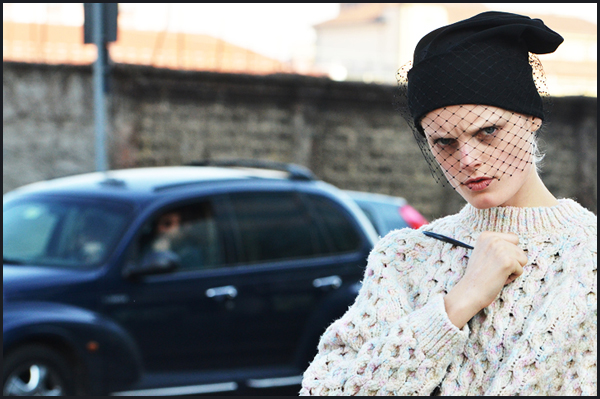 1. Spotted at Milan Fashion Week, this Jil Sander beanie-veil hybrid is a favorite with the fashion set. With a nubby, candy pastel-tinted sweater, it looks extra avant-garde.
Of course, the awe-striking runways are the main attraction for Fashion Week, but sometimes it's what's on the streets that excites me most! Sure, the catwalkers might have their struts and stares mastered to perfection, but lets not neglect the sidewalk stomp. Outside frequently proves to be where the real inspiration is. Fashion Week is when insiders get their most creative – they've come out to look at the shows, but they're also there to be looked at themselves!
2. Proving Parisians know how to be daring in spades, there's no shyness of hue going on here. Embrace it head on – I love the expertly contrasted color theme!
3. Model-turned-blogger Hanneli always catches more than a few eyes. Her varsity jacket, statement necklace, and adorable bobby-pinned side-part exude a sense of wearable whimsy.
4. This is how to do pajama dressing when all eyes are on you: with a polished and bright overcoat, tall and structured boots, and most importantly, a whole fall collection's worth of confidence.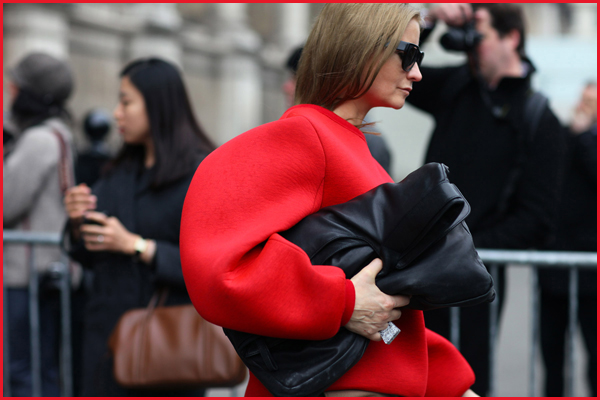 5. Doubling up on oversized and voluminous looks is usually a stylistic no-no. Not in this case. The way this scarlet Maison Martin Margiela billows is totally irresistible!
6. Are you Kenzo obsessed yet? You should be. Saturated and piercingly bright hues have rarely looked so divine. It's an amazing Technicolor dream coat!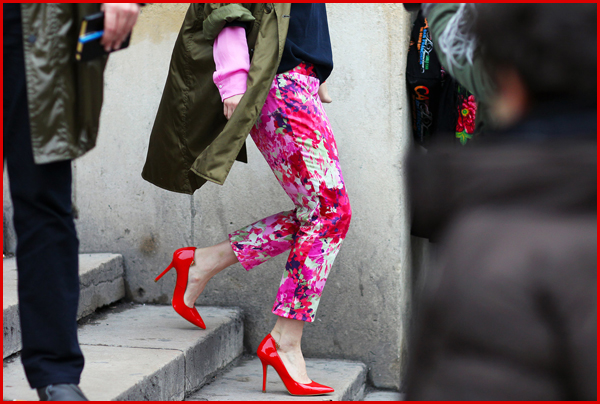 7. High-low street-chic at its best: a lip gloss-slick Zara pump with the season's must-have floral pant, for an uplifting pairing that hints at spring.
8. So this is not something everyone can pull off, but the ever-experimental (and usually successful) Hanne Gaby Odiele wears this daring cape-coat/hot pant combo with aplomb.
Photos courtesy of Tommy Ton for Jak & Jil and Style.com and Phil Oh for Vogue.