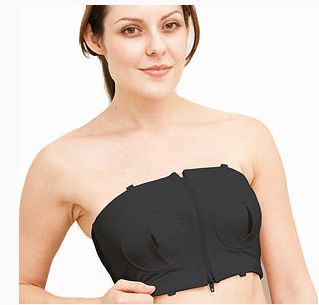 Everybody knows women are natural multi-taskers. And once you have a baby – that'swhen your multi-tasking skills kick into high gear! Which is one of the reasons why breast-pumping is terrible in more ways that you can imagine. At least you can minimize the wasted time spent by freeing up your hands.
Designed by four sisters who are, of course, also moms (because only someone who has been there would come up with this!), this brilliant bra might look a little intimidating, but it's absolutely ingenious. Not only does it provide full support, it's adjustable and compatible with any electric breast pump out there. Choose between pale pink and black, then just strap it on and let those pumps do their job.
When you're a new mom, it's all about double-duty and getting as much done in as little time as possible. Now 30 minutes of tedious pumping can turn into a truly productive session! On Simple Wishes for $39.