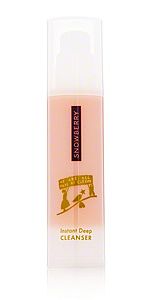 Meet Snowberry, a New Zealand line that just launched in the US. The philosophy of their products is based on three simple requirements: that they are safe, natural, and most importantly, they work. The ingredients of their Instant Deep Cleansing Oil are pretty wild. Things like: Inca Inchi, macadamia, passion flower, and cloudberry seed oils; olive oil; honeysuckle flower and tomato extracts; sunflower; and rosemary. Not only is that a lot of stuff, it sounds more like a salad dressing from the farmer's market – and I like that! I buy all of my produce at the organic farmer's market, so why wouldn't I demand the same level of quality for my precious skin?
It also explains the cleanser's bright orange color. It's potent, so you only need a few drops to massage over your face. It takes off all traces of makeup and dirt but leaves the skin so moist, you almost don't need moisturizer. But that's silly; of course, you'll follow up with your night cream (I only use this at night), along with eye cream and all your serums.
Snowberry is a very nice line that has natural goodness you can feel good about, one your skin can readily accept. Their stuff is certified carbon neutral and exhibits zero cytotoxicity, with no chemicals, parabens, propylene, silicones artificial colors. Only ingredients that will do good. Their packaging reflects their philosophy of the beauty of nature. It even has a drawing of kids and animals with a sign reading, "We are all made of carbon"! On Dermstore for $52.