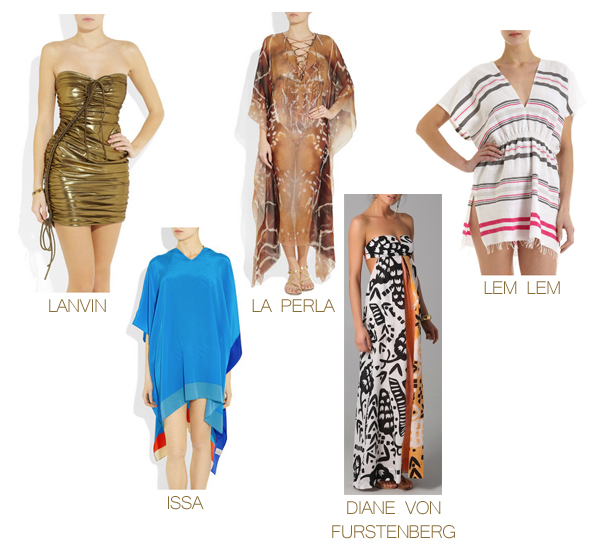 I am not the go in the water type. I can't stand the shock of cold water, and ocean water makes me feel sticky and icky. I prefer to sit on the sidelines with a cocktail and magazine in hand, which is a fine beach day by me. Of course, the lounging process requires the right cover up. And of course, we've got you covered, from total comfy lounging in loose cotton to Las Vegas Rehab style goddess glam, here are the top 5 cover ups this season:
1) Lanvin Metallic Ruched Bandeau Beach Dress: Gold metallic. Ultra glam. This Lanvin requires heels, enough said.
On Net-a-Porter
for $830.
2) Issa Color Block Silk Poncho: I love something bright for the summer so this Issa is more my speed. A flowy silk looks perfect catching a bit of a beach breeze. This poncho keeps you chic and comfy.
On Net-a-Porter
for $255.
3) La Perla Antelope Sauvage Silk-Chiffon Kaftan: For the South Beach crowd, La Perla's unique antelope print makes leopard seem so old school. Prance the beach in this cover up for some exotic glam.
On Net-a-Porter
for $565.
4) DvF New Krystle Cover Up: DvF always has the best kaftans but this dress is made for parties and allows you to take the streets with perfect decorum. After all, who doesn't love pool-to-party versatility?
On Shopbop
for $265.
5) Lem Lem Short Mara Cover-Up: The Lem Lem is spring break in Cancun. Casual and poncho inspired, keep this look for when you have a margarita in hand. (On the rocks with salt please.)
On Barneys New York for $200.