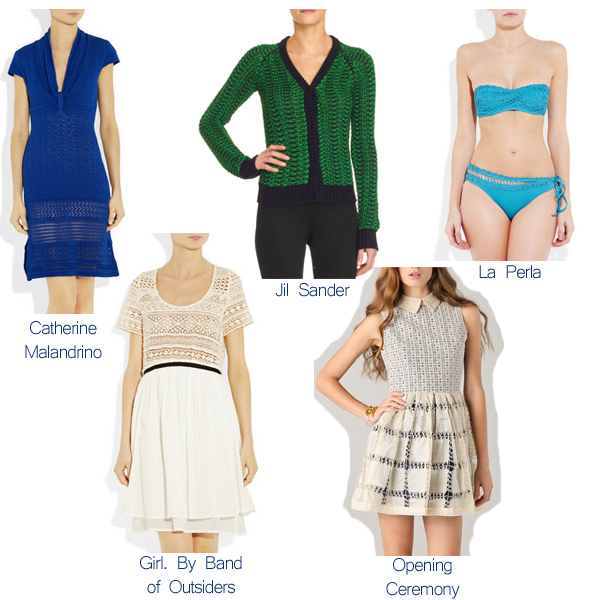 Derived from the French word meaning, "hook," the process of hooking strands of fabric into an ornate design dates back centuries. People were all about crochet in the Edwardian era, and racier styles hit the beach and made cute mini-dresses in the 1970s. Now crochet is proving to be super-versatile, as proven by these innovative takes on the sweet technique.
1. Catherine Malandrino Pointelle-Knit Dress: Crochet is all sleek and sophisticated in Catherine's steady hands. She also gets points for applying of-the-moment cobalt blue.
On Net-a-Porter
for $345.
2. Girl. By Band of Outsiders Crochet, Cotton, and Silk-Blend Gauze Dress: As refreshing as a cool breeze on a sultry summer night, this is whisper-light and supremely disarming.
On Net-a-Porter
for $755.
3. Jil Sander Crochet Cardigan: An investment sweater you'll wear for years: crochet looks classic in finely knit cotton and the lively color is one you won't tire of.
At Barneys New York for $1,210.
4. Opening Ceremony Crochet Lace Pleated Dress: How to smarten up summery lace? With a pert, schoolgirl color and lighted pleated voile skirt.
On ShopBop for $620.
5. La Perla Resort Crochet-Trimmed Bikini: La Perla modernizes the enduring crocheted bikini with a hot color and cool weave worthy of a tropical holiday.
Bandeau top
, $355, and briefs
, $285, on Net-a-Porter.