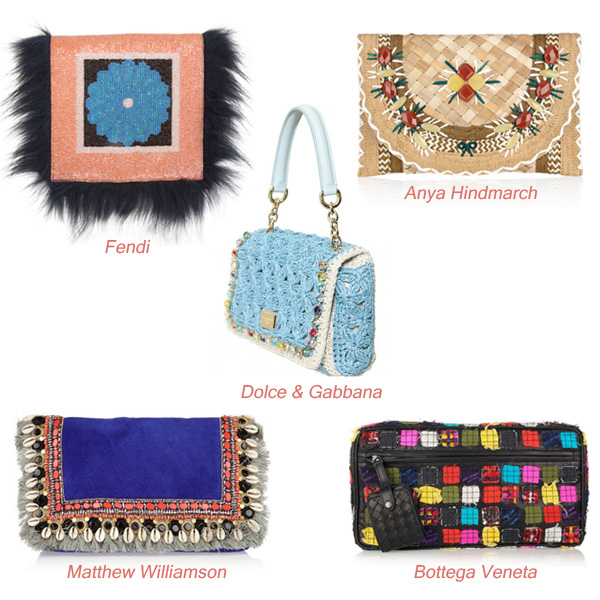 'Tis the season to get a little free with your style – we all get a bit looser in the spring, even maybe slightly bohemian. But not too free, please! I'm all for a bag with some whimsy to it, but these five overly embellished examples show that sometimes more is too much, whether you're talking crochet, embroidery, beads, shells, or patchwork.
1. Fendi Daisy Clutch: I didn't know daisies could actually look mean. Well, this concoction of glass beads (over snakeskin) and faux fur proves me wrong. There is nothing sweet about this flower.
At Barneys New York for $2,270.
2. Anya Hindmarch Ipanema Straw and Raffia Oversized Clutch: I see where Anya was going with this one (a souvenir you picked up on a South American holiday), but this stitched straw just doesn't translate to real life. On Net-a-Porter
for $795.
3. Dolce & Gabbana Miss Charles Crochet Top-Handle: How could something that looks like one of Grandma's wayward crafts projects makes its way out of the attic and onto the runway? This kitschy satchel should have been left with the doilies and figurines. On Luisa Via Roma
for $1,503.
4. Matthew Williamson Embellished Fringed Suede Clutch: Tropical-island shells and rich blue suede just don't add up, especially when they're accented in hairy fringe. A nice color palette, but another miss. On Net-a-Porter
for $975.
5. Bottega Veneta Patchwork Leather Clutch: This is like a Rubik's cube that can never be solved. Usually impeccable Bottega foiled themselves with this multicolor mistake. On Net-a-Porter
for $1,900.