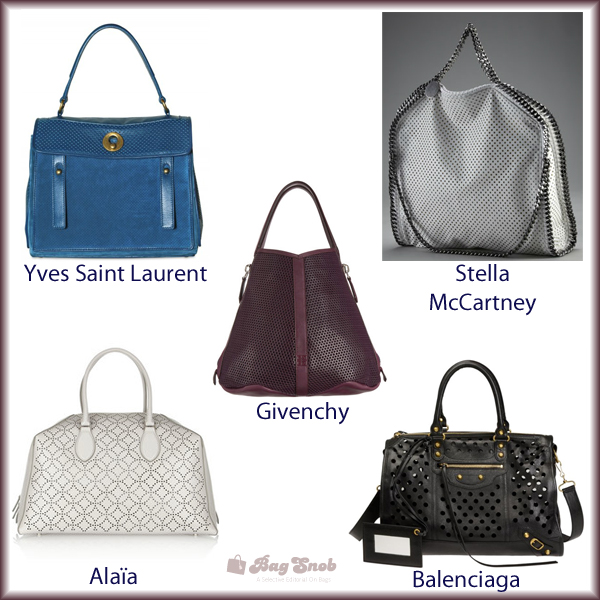 Take the weight off for spring! A big, perforated bag is breezy, breathable, and easygoing. All those delicate cutouts lighten the load and relax the mood, adding as much interest as a pattern but with complete neutrality. Just a touch of open-air texture brings a sense of fresh wonderment to classic bags.
1) Yves Saint Laurent Muse Two Medium Perforated Top-Handle: This perforation is subtle, with variation in size and texture thanks to a buttery soft suede-and-leather combo.
Available for pre-oder on Luisa via Roma
for $1,895 (for arrival by March 31st ).
2) Stella McCartney Faux Perforated Leather Tote: The seemingly eternal Falabella lives on, but it looks thoroughly fresh on this holey, creamy white rendition.
Available for at Bergdorf Goodman for $1,345 (for delivery by April 23rd). 
3) Balenciaga Arena Perforated Leather Bowling Bag: Even the Arena now looks brand new. These edgy holes are big enough for this bag to double as a hangout for your pup.
At Browns Fashion for $1,507 (£945).
4) Alaïa Perforated Leather Tote: Alaïa has been working their magical way with perforation on their totes for some time now, and there's no question why: they know to make it look intriguing, classic, and fun.
On Net-a-Porter
for $3,680.
5) Givenchy Medium Tinhan Perforated Shopper: With such breathability, warm aubergine will look nice paired with spring's crisp whites – and the color makes for an easy transition into autumn.
Available for pre-order at Barneys New York for $1,765 (expect delivery in April).