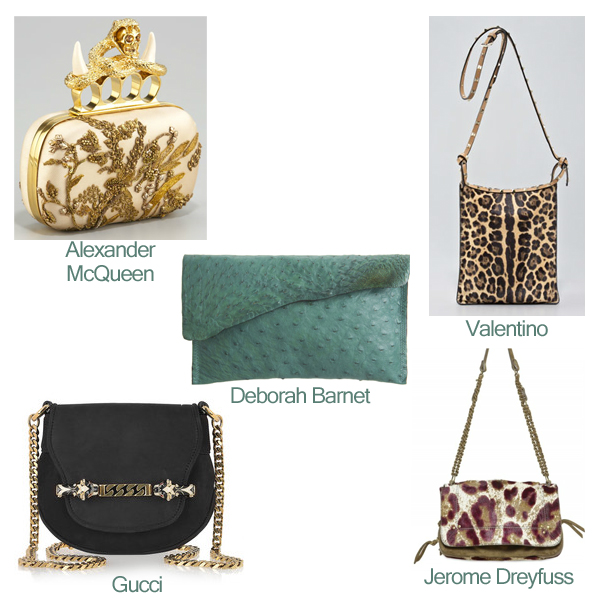 Who says you can't be both badass and highbrow at the same time? The best kinds of bags don't put your personality in one category. The ladylike-meets-edgy theme never gets old (even if the phrase does!) – and neither does the spirit of rock-star cool. Think back to girls like Anita Pallenberg, Marianne Faithfull, and Stevie Nicks, and how they are still having an effect on the fashion world after all these years. Ladies, rock on!
1. Alexander McQueen Embroidered Satin Clutch: God save McQueen! Delicate satin and floral, beaded embroidery have never look so hardcore. A brilliant juxtaposition against be-spiked and be-skulled knuckle rings. At Neiman Marcus for $2,795.
2. Valentino Rockstud Leopard-Print Crossbody Bag: A simple crossbody style says you've gotta dance, while wild-cat spots and splashes of spikes drive the edgy, not over-the-top, point home. At Bergdorf Goodman for $1,595.
3. Deborah Barnet Sauvage Ostrich Clutch: Luxurious ostrich can make for a rugged exotic. Deborah Barnet makes this skin look extra pebbly and worn-in, especially on a jagged-cut silhouette. But in this soft hue, it's easy on the eyes. At Barneys New York for $495.
4. Gucci Tigrette Embellished Nubuck Shoulder Bag: Clean, curvy lines with just a bit of jungle-animal instinct for an element of danger. Smooth gold chains finish this mini-bag off right. On Net-a-Porter
for $1,250.
5. Jérôme Dreyfuss Bobi Leopard-Print Calf-Hair Shoulder Bag: Jérôme knows how to do louche glamour well. This spotted satchel is a perfect off-day addition. Wear it with leather leggings and nonchalant attitude. On Luisa via Roma
for $1,011.