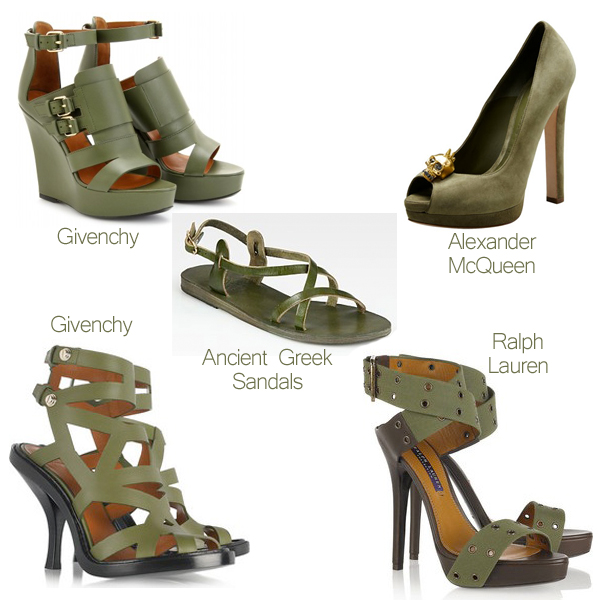 Army-green for summer? Oh, yes! (Or maybe I should say, "Sir, yes, sir!") This latest shade is more sage than military – at least it sounds prettier! I love it because it's both a color and a neutral. It works with white, beige, black, brights, and prints alike, since most florals have a hint of green somewhere.
Sage seems to be the shade of the season, not only in the realm of accessories, but with ready-to-wear, too. Looks like I'll be breaking out my Essie polish – their appropriately named School of Hard Rocks is the perfect variation to offset these sandals.
1) Givenchy Corinne Leather Wedges: The military hue is perfectly suited to these unfussy platforms, ideal for the tomboy who rolls in high style. On My Theresa for $1,255.
2) Alexander McQueen Skull Peep-Toe Platform Pump: Soft suede and an undying silhouette get an edgy upgrade in a rough-and-tumble color, topped with a don't-mess-with-me embellishment. This skull even has a mohawk! At Bergdorf Goodman for $965.
3) Ancient Greek Sandals Myrtis Leather Slingback Sandal: The brand may hark back to primordial styles, but there is nothing ancient about this shade of green – a great way to refresh the gladiator sandal. At Saks Fifth Avenue for $195.
4) Givenchy Cutout Leather Sandals: Maybe it's their inherently badass take on heels, but Givenchy has quite a way with sage. These artsy cutouts are so of the moment, yet they'll cruise you into September. Just be warned, not the most comfy shoe out there. On Net-a-Porter
for $975.
5) Ralph Lauren Collection Jesalin Canvas Sandals: A classic combination taken right out off the low-slung trousers of soliders. Army-green and studded canvas look way better on our sandals than their belts! On Net-a-Porter
for $695.