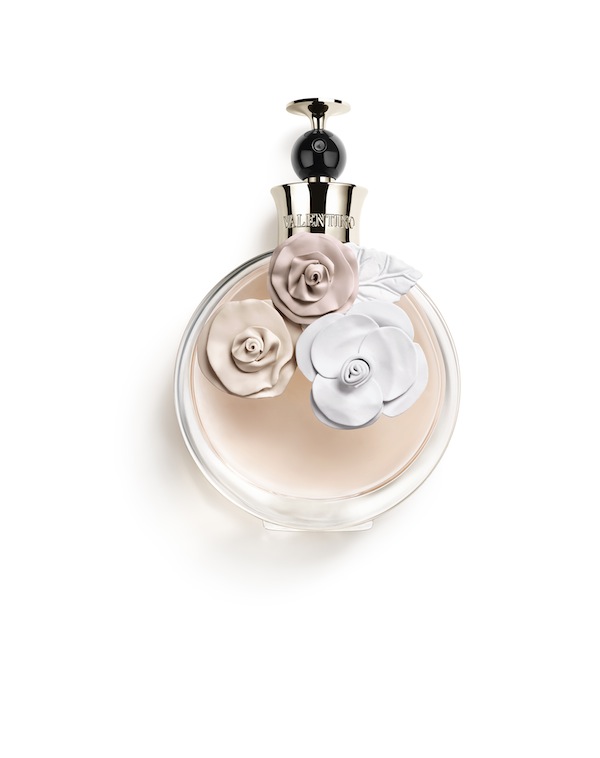 It rarely happens that Valentino hosts events in their showroom, but they did just that last week when they invited a few bloggers to check-out their new fragrance, Valentina ($80 for 1.7oz; $108 for 2.7oz). Of course I was very distracted by the clothes (see below!), but once I got over how beautiful the lace in the S/S 2012 collection was I made my way to the main area to get the lowdown on the new scent.
Given the bottle, it's little surprise that Valentina is a floral scent, but it's actually orange flower that I felt lingered the longest when I sprayed myself with it so this isn't your grandma's floral. Valentino is calling it an Italian floral oriental and it has notes of bergamot, jasmine, orange blossom, tuberose, wild strawberries, amber, and most impressively — white truffle! I was able to smell the white truffle molecule used in the fragrance on its own and it's incredible how accurately it mimics the true scent, so much so in fact that my mouth began watering for some pasta with mushrooms and white truffle oil! The truffle is a top note however so it dissipates quickly (when smelled on its own as well as in the fragrance). Interestingly enough the two noses that were spearheading this fragrance were debating between a caviar or a truffle note…glad they went with truffle as I can't imagine caviar, given its fish-y smell, having as much appeal…
Truffles aside the fragrance is very light, in fact you might have to spray more than you usually do if you're used to wearing stronger, more musk-y scents like I am, but definitely worth a spritz if you're looking for something feminine, refreshing and subtle.