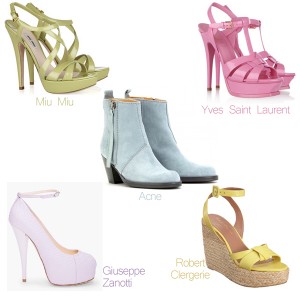 Spring just officially began, and now ShoeSnob has nothing but Easter eggs on the mind. So she was inspired to perform her own egg hunt and find the very best pastel-hued shoes around!
Sometimes it seems infants and toddlers grow so fast, you can't keep up even if you have an arsenal of gear ready to go. So Whittle Down Your Shopping Time with Whittlebee! At TotSnob.
Stiletto Jungle plays DIY princess with tips for snagging Kate Middleton's gorgeous hair style.
Is Jessica Simpson's pregnant belly offensive? A supermarket in Tucson thinks so. Allie is Wired has the details.
Wrap it up this Season with the Top Turbans at CoutureSnob!
J'Adore Dior: Get your free Dior Beauty Consultation at a Macy's Near You! At BeautySnob.
Coquette gives you a sneak peek of the candy-colored Coach Legacy Collection for Fall 2012.
Second City Style pulled together 6 case studies that show How to Mix Prints & Not Look Like You're Batsh*t Crazy!.
It's rare you find fine delicacy that makes such a strong statement. But Plukka's unique take on diamonds and gold does just that. At JewelSnob.
The Beauty Stop has the details of the new Nars Andy Warhol collection.