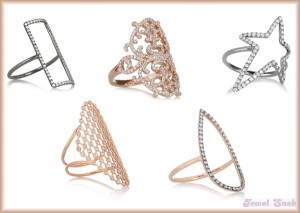 It has been awhile since JewelSnob seen anything this fantastic in jewel design: Diane Kordas Negative-Space Rings.
Think you know what's hot for Spring 2012? Test your fashion knowledge at Stiletto Jungle.
Allie is Wired wonders whether Lindsay Lohan is cleaning up her act.
Don't feel dehydrated while flying around! Save your skin with BeautySnob's In-Flight Hydration Arsenal.
ShoeSnob's picks of the best lucent heels range from off-kilter oxfords to transparent pumps to Edwardian booties: Top 5 Illusion Shoes.
Looking for a fashion pick-me-up? Coquette finds the bold color and graphic prints of Tibi's new spring fashions irresistible.
Get ready for the summer with CoutureSnob's top picks of Sundresses and Swimsuits.
The Jet Set Girls found the perfect picnic basket for spring by Tracy Reese for Clos du Bois. What could be better than a great designed bag filled with wine?
Second City Style gets a peek behind the set Inside Her Work Wardrobe: FOX's Sandra Smith Dishes.
The Beauty Stop test drives the new Urban Decay De-Slick makeup setting spray.
With this cute Cuddle Cover you can turn a simple pillow into a favorite stuffed animal. At TotSnob.