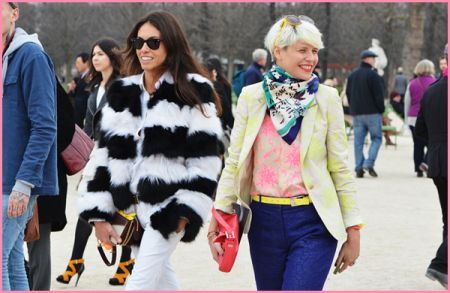 Of course, the awe-striking runways are the main attraction for Fashion Week, but sometimes it's what's on the streets that excites CoutureSnob most! Seen on the Street Roundup: Paris and Milan Fashion Week, Fall 2012
Strapped for cash this Spring? Stiletto Jungle has tips for how to recycle your wardrobe, but stay in fashion.
Allie is Wired has Hilary Duff's hilarious Funny or Die video on "pregnancy beauty secrets."
It's like Christian Louboutin took my favorite elements from his more wearable shoes (as in, not his super-tapered, sparkly stilettos) and ingeniously shook them all together in the Christian Louboutin Leather and Python Colorblock Platform Sandals. At ShoeSnob.
BeautySnob is a bona fide freak for floral scents from Jo Malone, especially the London Blooms Collection.
Coral jewelry can give your spring outfits just the right burst of color says Coquette.
Second City Style is on a neon bright color rage and is craving this Trend For Spring 2012: Pink & Orange.
Diamonds are a girl's best friend, no matter how your gem is wrapped…even if it's encased in rubber! JewelSnob is talking about the DuePunti Rubber Rings with Diamonds.
Shopping and Info is loving the Miu Miu baby pink bagand 4 other designer bags for spring 2012.
A modern home by the beach is everyone's dream, and while it might still be in your fantasies, it can be a reality for your tot's dolls with the Model Modern Bennett House! At TotSnob.
The Beauty Stop is loving neon nails for Spring.