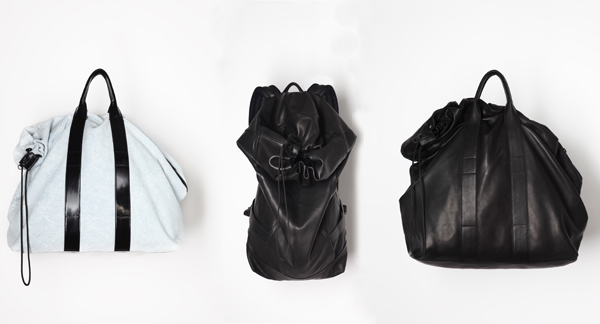 I usually have some difficulty with lines for both men and women featuring the same creative director. With 3.1 Phillip Lim, that is never a problem, like during Paris Mens shows. The creativity and the accessible price point are extremely attractive, and truthfully, the foundation that the expanding company is built upon.
Lately, Phillip has been receiving a large amount of attention and sales for his 31 Hour Bag, which I must say, is an interesting concept based on practicality and bag origami (or at least I'd like to think!). For men, the 31 Hour is based on drawstring, and online, you can find two gorgeous versions; one is in black leather ($750), and the other is in a beautiful and light acid-washed denim (the perfect summer bag; $495). Also, the knapsack is my idea of a backpack. With a sturdy construction of sexy leather (I mean, it is…), and a sleek shape, every kid in the schoolyard will wish he was you ($950).
P.S. In honor of their new e-commerce based site, if you shop the 3.1 Phillip Lim site (through April 23rd), you get 20% off by using this code: "N31R5WQ67T6." Enjoy!