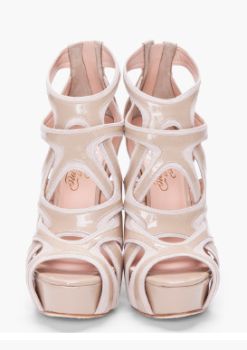 Is there such a thing as ladylike bondage? It might sound like an oxy moron, but with a vision all his own, Alejandro Ingelmo is here to prove otherwise.
The fourth-generation designer, raised in Miami with a Cuban-Spanish background, creates super-sexy, strut-worthy (or perhaps stomp-worthy) shoes as fluidly eclectic as his upbringing. For Spring, he is taking a lighter approach – literally – though his trademark swerving, deeply angled pitch is still firmly intact. Nude-blush softens the heft of a 6" wedge, and patent-leather paneling introduces needed sheen to a flesh-toned shoe. It also breaks up the intricacy of a deliciously dangerous spider web of straps. These suede-trimmed bands hug your feet comfortably – this web isn't letting your foot slide anywhere! Hey, practical S&M means you can be comfy and sexually deviant at the same time. It's all about picking your poison, darling. On Ssense for $795.
Pair with: Elect a simple silhouette that's more "lady" than "tramp." Like See by Chloé's crocheted cotton-lace dress. A demure neckline and a sweetly flared skirt will leave the femme-fatale emphasis on your killer shoes. On Net-a-Porter
for $795.