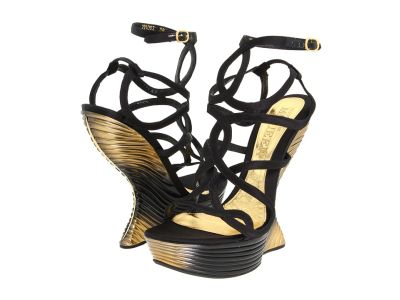 Calling all mermaids, sea temptresses, sirens, and most importantly, snobs! Here it is: the holy grail of all shoes! Not only will these lure in sailors, plunderers, and pedestrian men alike with their sea-faring sensuality, you'll be the envy of every glamorous land-strutter in sight.
The ocean is a major inspiration for accessories this spring, from Lanvin's seashell clutch to Chanel's pearl hairpins, but it just doesn't get any better than shoes that put all other sculptural heels to shame. Naturally, it's Alexander McQueen who has executed the most covetable sandal for miles. Insane layers of ombré ridges add up to 5" that knock all other wedges out of the water. With simplistic yet complex straps, a minimal tangle of curving lines, there is enough here to keep the eye super-stimulated without going overboard. They say oysters are an aphrodisiac – and now I really believe it! On Zappos for $4,630.
Pair with: Needless to say, this intricate wedge deserves to be the star of the show. Return the pearl to this oyster with Lanvin's on-trend crystal-cross bracelet. Pearls-on-mesh means this jewel looks Gothic-modern. On Net-a-Porter
for $885.