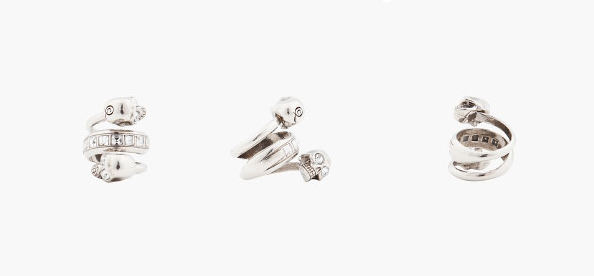 If I were in high school, this would be a totally acceptable and fashionable promise ring (symbolizing the promise to not be a jerk, not the promise of marriage. No one should be thinking of marriage in high school!). Or if you're already married or in a relationship, your supremely hip and cool man can just get this for you just because he knows you'll love it. Even better yet, buy this for yourself as a symbol of your unwavering female resolve to never be under the control of mere mortal men.
Whatever the case may be, even though this Alexander McQueen ring looks a bit like a wedding band, a motif of doubled-up skulls with rhinestones (diamonds would be better, but they're too much of a commitment in this case) shows you're no traditionalist.
Could I be getting edgier with age? My recent fixation on black diamonds is telling me to get this made in black diamonds and put away my ho-hum eternity band. On Ssense for $285.
Pair with: I'll keep things from getting too hardcore with Cathy Waterman's cable-chain bracelet. Gold links come together with a scalloped platinum and diamond heart, one that's mysterious, not obvious. At Barneys New York for $2,580.