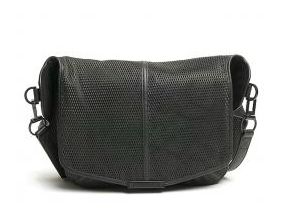 Trust Alexander Wang to give new meaning to the often-used term "sporty." He's not the only designer to do athlete-chic this spring, but it's likely he's done it the best. Referring to imagery of motocross and BMX racers, he is all about laser-cut mesh leather, evening-appropriate racing stripes, and Hawaiian-print cargo pockets.
I think this bag is the best example of his magical way with sport. Mesh is just dandy for jackets, but leather netting on a bag introduces texture that's as lightweight as can be. I've said it before, and this really proves it: an everyday black shoulder bag does not have to be as boring as it sounds. Well, when it comes to Alexander Wang, boring is not even in the dictionary. This is cool, relaxed, and confident style, pure and unadorned (matte black hardware keeps it monochrome). Staying true to his original customer, this satchel is for the total city girl who can't be bothered being fussy. Not that I'm going to Coachella, but this is the kind of bag that would be just the thing to bring to the grassy grounds. At Kirna Zabête for $850.
Pair with: You can't hit the musical festival circuit without a killer pair of boots. Étoile Isabel Marant's Sailor python-printed boots have fringe that will move right along with you. At Barneys New York for $1,060.