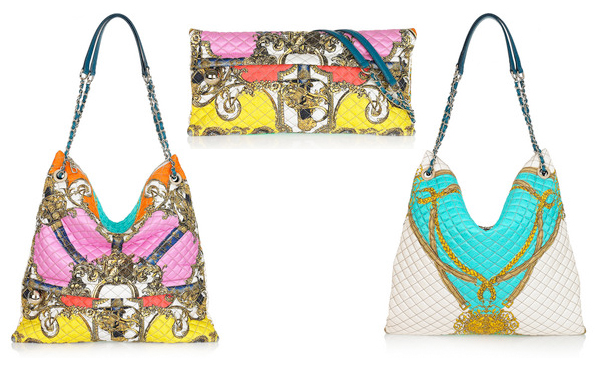 In concept, I love this D&G bag: a shoulder-tote style, with contrasting front and back patterns, that folds fluidly into a clutch. Three bags in one – sounds like a great deal, right? But, alas, concept and execution can be two very different things.
Three-for-one does not a bargain make when the bag in question is made of delicate silk (a bag made to live several different lives should be able to withstand the elements).  For a thousand bucks. Not only is the bag loud – a purposely gaudy motif and electric-sherbet colors – this one's a screamer (though I appreciate the homage to '80s Versace). The design is versatile, but the rest sure isn't.
And worse, I can imagine how quickly dainty silk-twill will tear, ravel, and run. Even crazier than the Versailles-on-crack aesthetic, it sold out on Net-a-Porter in a mere matter of hours! Nothing makes sense to me anymore.
You've heard my opinion, loud and clear. What do you think: snob or slob?
On Net-a-Porter
for $955.