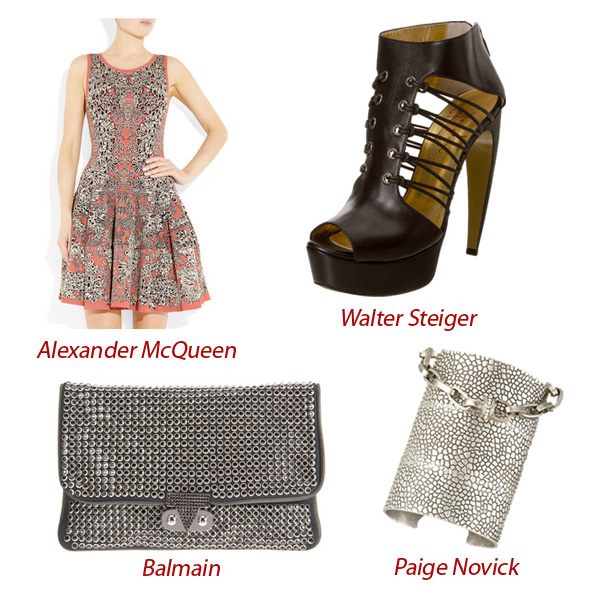 For Memorial Weekend. I'm going to the grand opening of Revel in Atlantic City. As a West Coaster, I'm a Vegas girl through and through. I've been going since I was a kid, so for me, Atlantic City is a whole new ballgame when it comes to getting dressed. And when you throw in Beyoncé (who is performing), I really have to step it up. Forget the down-and-dirty boardwalk – I intend to do the Vegas of the East in style.
I don't want to go the usual route. Everyone will be sporting something shiny or black. I want color, but it's got to be appropriate for evening, so I'm going to texture!
Alexander McQueen's barnacle knit is unexpected but still has an ocean-side feel. Think intricate and beautiful. It's less ornate than it appears and not shiny in the traditional way of sequins or metallic. With an architectural sandal-boot, like this vaguely bondage-inspired one by Walter Steiger and Paige Novick's pebbly cuff, my Balmain clutch can do the sparkling. Tasteful is the keyword when you're in Atlantic City – and even in Vegas. You never want to fit in too much! =)
Alexander McQueen Flared Barnacle-Intarsia Dress
On Net-a-Porter
for $2,815.
Walter Steiger Multi-Band Sandal Boot
At Barneys New York for $1,070.
Balmain Amazon Clutch
At Barneys New York for $2,600.
Paige Novick Textured Silver Cuff
At Bergdorf Goodman for $380.