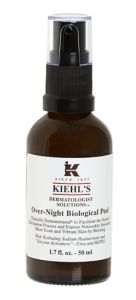 This is one of the few samples I've received that I actually went back later to buy. Along with a bunch of other samples, Kiehl's Over-Night Biological Peel was included in my bag. The small package allowed for just two nights of use and after that I was sold. It claims to give you brighter, clearer skin by the time you wake up in the morning and unless I got a midnight visit from the beauty fairy, this peel did just that.
It has hydrating sodium hyaluronate and enzyme activators, which exfoliate dead skin to reveal bright, new skin. There is a slight stinging sensation, but it's not painful. Actually, it just made me feel like something was going on, so I liked it. The only slight downside: it has a weird, vinegar-y smell, which isn't awful but definitely noticeable. I woke up with sticky skin (maybe I used too much), but after I washed my face, I was not only very happy with what I saw – I was amazed with my clear, smooth complexion.
I have an assortment of peels like this but I love Kiehl's. They have proven through the years that they are a brand to be counted on, and the prices are always nice. At Barneys New York for $46.