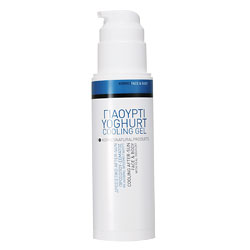 A week hanging in Cancun under the 86-degree sun may sound like a blessing, but my skin is getting the torture treatment. As somewhat of a sunblock crusader, I am too vigilant about sunscreen to ever get burnt, but that doesn't mean I don't need extra hydration and refreshment when I'm back in the shade. No matter how much sunscreen you apply, time spent out in the elements still leaves your skin in need of nourishing treatment.
Nothing sounds better to me right now than Korres' Yoghurt Cooling Gel. It soothes, it comforts, and it's designed for skin that has just experienced major sun exposure. Best of all, it cools you down. It's basically like a tall glass of lemonade for your skin after a day in the heat. The gel feels instantly cool upon application and leaves you feeling tingling for a while after – in a nice way.
For me, it just feels satisfying to pamper my skin after a day of heat exhaustion. A definite must for the face, but this can be used on the whole body for cool immersion (get two bottles if you plan on doing that!). At Sephora for $23.50.