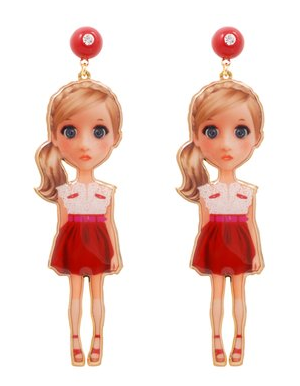 Are these totally creepy, or what? I don't know what our new friend Brittany's deal is, but I'm instantly reminded of the twins in The Shining, hands down scariest movie ever made…I'm getting chills just thinking about those foreboding little sisters.
Seriously, what's with the blank stare? Designed by French brand Les Néréides (based on the Greek word meaning "the illustrious"), they claim to be all about "joie de vivre and whimsy," but I'm getting none of that from these soulless creatures.
As women, is the doll-faced and empty-on-the-inside persona the impression we want to give or get away from? Oh, what do I know! I was born in the seventies. Kids these days don't appreciate the progress we've made to be strong Hilary Clinton types. Just kidding.
Politics aside, these earrings are disturbing, if only on an aesthetic level.
On AHAlife for $62.