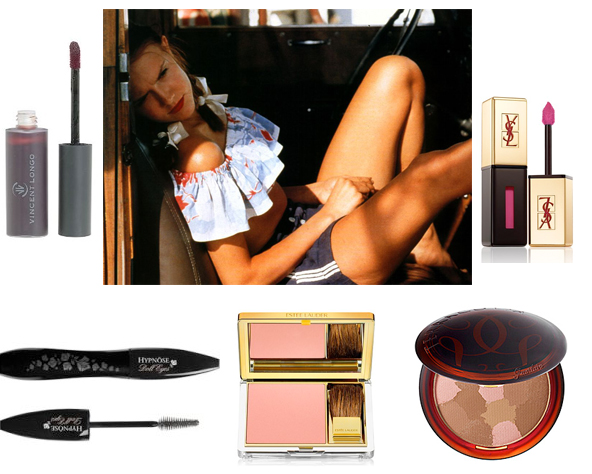 Perhaps the most controversial book of the twentieth century not only disturbs with its portrayal of one deeply disturbed dude – Lolita has become an inevitable style icon. The title character of Vladimir Nabokov's groundbreaking 1955 novel was actually not a natural beauty, per se, but the girl had loads of allure. Sure, at a mere 12-years-old she wasn't wearing a lot of makeup, but that's just what makes her look so perfect for the summertime. Lighten up, and go girlish!
1. Vincent Longo Lip and Cheek Gel Stain: A Popsicle-stained pout is paramount to youthful appeal. You might not be one for indulging in fruity frozen treats, but an easy gel stain is universally flattering.
On Amazon for $22.50.
2. Lancôme Hypnôse Doll Lashes Mascara: No eyeliner necessary. Just a wide-eyed, long-lashed look courtesy of jet-black mascara formulated to make you look like a living doll.
On Amazon for $19.39.
3. Estée Lauder Pure Color Blush: A rosy glow emanates health and youth. Estée Lauder's is made with True Vision technology, so this flush lasts all day long.
At Saks Fifth Avenue for $28.
4. Guerlain Terracotta Light Sheer Bronzing Powder: Lolita was rarely without a tan, as she loved lounging in the grass and bathing in the sun. You can achieve the appearance of sun-kissed skin with a brush of Guerlain's trademark compact.
At Sephora
for $50.
5. Yves Saint Laurent Rouge Pur Glossy Lip Stain: Evening occasions demand more than a "naturally" stained lip. YSL's newest addition is perfect. This hybrid product delivers long-lasting lacquered shine.
At Saks Fifth Avenue for $32.