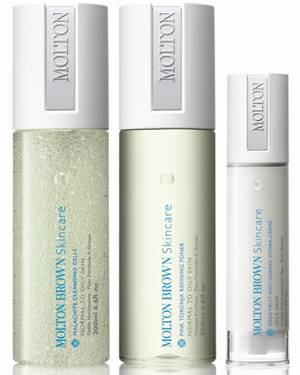 Molton Brown is up there for me with Tom Ford and Oribe as being unable to do any wrong. Their products are always not only reliably effective, but they smell divine and are packaged impeccably. I mean…do you see the image above!? How chic is that cap? I love the combo of the reflective silver and white (honestly it's worth seeing in person because the image doesn't even do it justice). The products pictured above are part of a just launched anti-aging range that has been six years in the making! The line includes a wide range of products for face and body, all of which have been formulated with globally-sourced plants and minerals (they did a bunch of clinical trials to make sure everything was as effective as possible).
I've only tried the cleanser for oily skin ($48) thus far and it not only goes on smooth, but it surprsingly works well with my Clarisonic (usually cream cleansers are the only ones that work), and it has a mojito-like smell that I'm gaga for. The line includes 12 other products: a lip booster, an eye treatment, toner, cleansing fluid, sunscreen, anti-aging neck and décolletage cream, hand cream, and a body cream, all of which are priced between $42 and $98. As an added bonus Molton Brown has brought on skincare specialist Nathalie Eleni whose clients include Julianne Moore, Angelina Jolie and Colin Firth, to create custom facials in conjunction with the new line. I'm not into facials (I almost always end up breaking out), but I could see myself being persuaded into making an exception…
Check out the entire collection, which is available now, at moltonbrown.com.