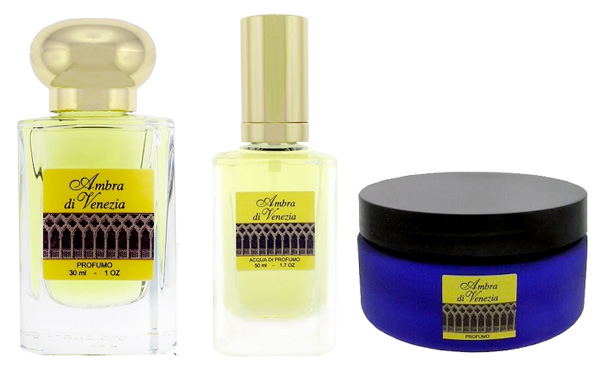 A perfume inspired by the warm palette of the setting sun and fresh breeze over a Venetian lagoon cannot help but evoke a bit of romance and passion. Expert perfumer Montgomery Taylor, who also studied architecture and glassblowing, created Ambra di Venezia after a glass-making sojourn in Venice. A blend of French Narcissus, mandarin orange, bergamot, jasmine, lime, mango, and sandalwood, this perfume is sensual, sexy, captivating, and mysterious. Ambra di Venezia captures the essence of a sultry amber sunset and the magic it induces.
And if you are fortunate enough to be in New York City, stop by Treasure and Bond where Taylor's fragrance is sold – at the boutique, you have your choice of packaging. The essence of Venice's mystique does not just waft from the scent but is reflected in a hand blown flacon that Taylor personally makes, signs, and numbers. The glowing golden perfume bottle is a work of art itself. But if you're not anywhere near the Big Apple, you can still order the parfum, eau de parfum, and even a velvety body cream, which is enriched with jojoba oils, and luxuriate in this enticing scent.
Ambra di Venezia Parfum, $130 (for 1 oz.), Eau de Parfum, $90 (for 1.7 oz.) , and Body Cream, $75, (for 8 oz.) available at Aedes de Venustas.