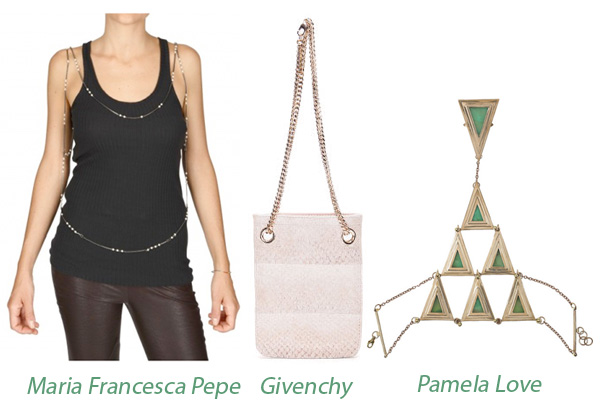 Every girl who calls herself carefree, young at heart, and a hot-to-trot music fan is currently in Indio, California for double-packed weekends of music, courtesy of Coachella, the most famous festival for miles. Even if you're listening to your favorite band on your iPod and not in person, it's the perfect time to pay homage to rock mamas and earth goddesses alike with an unexpected jewel that suits your artistic side.
Pamela Love Bronze and Chrysoprase Pyramid Hand Piece: A hands-on approach suits the anti-minimalist mood. A series of bold, geometric pyramids makes this a statement piece that will surely get conversations going.
On Net-a-Porter
for $1,775.
Maria Francesca Pepe Pearl and Metal Necklace: A bit of body jewelry reveals a wild side. These burnished pearls and brass float around the body in a most ethereal way.
On Luisa via Roma
for $485.
Givenchy Salmon Leather Mini-Pocket Necklace: Let your necklace work double duty as it houses your bare festival essentials. Only Givenchy could make such a wacky accessory seem covetously cool.
On Ssense for $735.