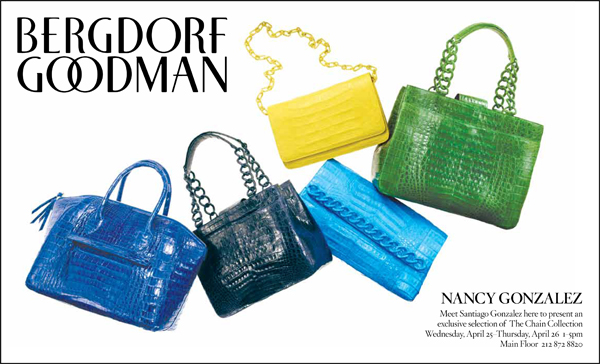 Nancy Gonzalez is always interested in exploring the limits of what can be done with exotic skin. In the "Chain Collection" she has covered metal chains in crocodile link by link and has used these chains as handles or as decoration. So understated and chic! Done completely by hand, covering every single link in precious skin is an elaborate, complex and precise process that requires many hours of work from the most skilled of her artisans.
The outcome is a refined and extraordinary collection of bags, clutches and totes all bearing chains in unexpected ways in a palette of delicious colors. As well as a small capsule collection of jewelry and belts made out of crocodile chains. I am really excited for the launch of this collection as I am a huge fan of chains! If you are in New York City, stop by Bergdorfs on Wednesday and Thursday this week to check it out in person. Grab me a few pieces of croc covered chain jewelry please!
Meet Santiago Gonzalez
Wednesday and Thursday, April 25th-26th at Bergdorf Goodman from 1-5pm
for an exclusive presentation of the "Chain Collection"!