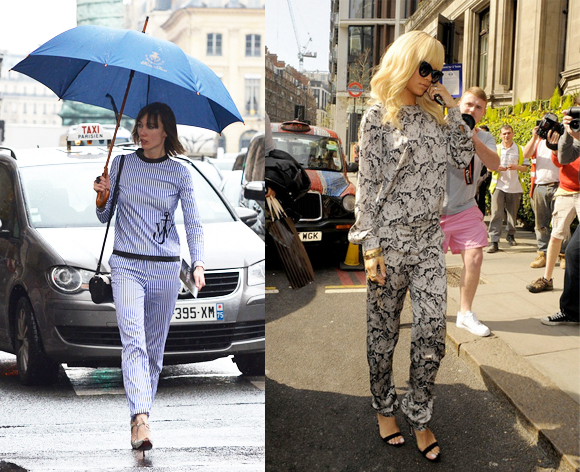 Forget slumber parties. Pajamas have become bona fide streetwear courtesy of the bold and fabulous stepping out in matched sets for the past couple seasons. Just check out this Tommy Ton shot in Paris and Rihanna leaving her hotel in London, sporting Stella McCartney's lace-print look from her Pre-Fall 2012 collection.
This isn't for the shy – or even lazy! In order to do pajama dressing right, you have to not give a hoot if those who aren't in on the look (aka anti-snobs) give you puzzled expressions when you're out and about. You also have to accessorize to the nines. Heels, jewels, an embellished bag, whatever you choose, this isn't the time to go ultra-minimal.
Here are some options, from the boyish and classic to ladylike and inventive:
1. The Row Shore Striped Cotton Shirt
($740) and Seedon Striped Cotton Cropped Pants ($640): A nod to old-fashioned men's PJs, these should be worn with a crisp tote and rope-trimmed wedges for a preppy springtime look.
Available on Net-a-Porter.
3. By Malene Birger Hazima Printed Silk-Crepe Wide-Leg Pants: Walking the line between bohemian wide-leg trousers and luxe pajama bottoms, these have a dressy appeal that makes them truly versatile.
On Net-a-Porter
for $355.