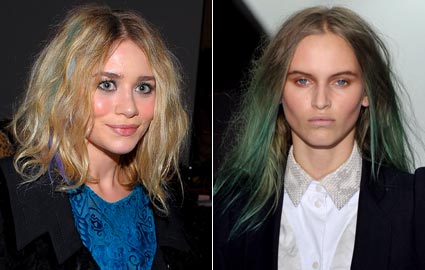 Proenza Schouler gave their runway a pastel tint, so to speak, back in 2010. Then Ashley Olsen was among the first, followed by Kate Bosworth, and then January Jones, among others: shifting their hair into punk-meets-pretty territory with cotton-candy streaks. Whether they've committed to Smurfette tips or tried just a taste with a baby-pink highlight, flaxen-haired girls are turning up in all colors of the rainbow.
Now you won't see me with candy-girl locks (call me an old lady! I'm conservative about my dark hair!), but hey, we're dressing in pastel from head-to-toe this spring, so why not really go head-to-toe? Paul Mitchell has made it super-easy with INKWORKS, a professional, semi-permanent color for you to apply as little or as much color as you want, with the help of your stylist (this is not a DIY project!).
If your skin is warm, oranges, pinks, and yellows tend to be best, while if you have a cool undertone, go for purple, blue, or green. And, yes, these whimsical streaks will show up on light hair only, so brunette beauties, unless you want to go platinum this summer, you're out of luck. What do you think: just another way blondes have more fun? Available at Paul Mitchell salons.