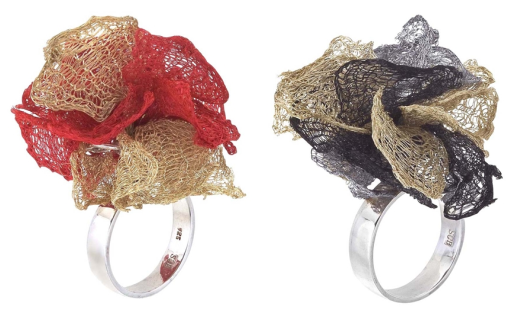 Jewels need not have any boundaries. When you see something deeply unusual, go ahead and pounce on it! I'm all for showing a sense a flair for bling in an unexpected way. Like with Sabido & Basteris' wild take on flowers. Voluminous to the max, their floral rings and cuff make you look like a delicate package with plenty of surprise.
Taking a cue from classic corsages, these metal-mesh pieces make for whimsical accents. Made from woven silver, the rings (out of their Fiori collection) burst with excitement. The gold-and-red cocktail ring ($545), inspired by a trip to the Mayan temples of Mexico, has particular pop. And the audaciously curling, crinkling, and swerving cuff ($1,395) – shimmering metallic hues woven into flamboyant petals – takes it up an even higher notch.
I probably don't need to tell you that these accessories should be kept as the main focus. Let them have their fun and keep everything else effortless. Available on Jewelista.