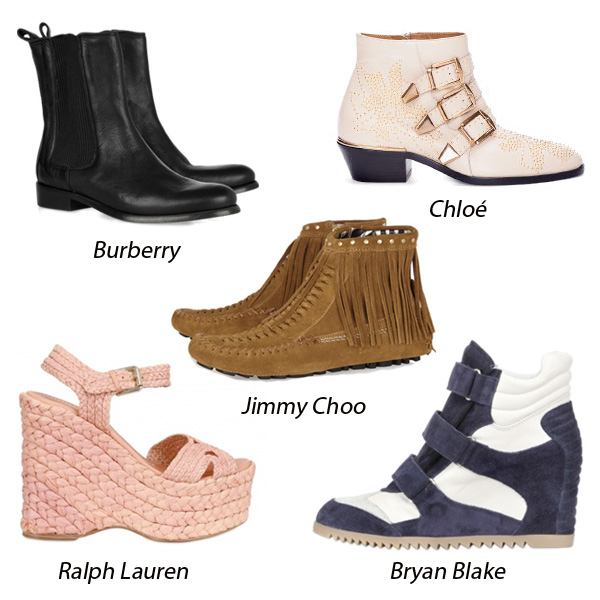 Coachella is on in full force right now (in between it's double whammy of weekend shows, to be exact), so even if you missed Snoop Dogg last week, you might still be able to run over and at least catch a glimpse of in in-crowd wearing their most vivaciously casual, hippie-dippy, and vintage-rocker looks. And if you can't, why not dress the part anyway? In honor of music festivals, a comfy selection of shoes that welcome you to dance in the grass all day:
1. Burberry Textured-Leather Ankle Boots: A little urban and eternally hip, the black leather ankle boot is a festival staple. Wear Burberry's sleek yet casual booties with a flowy mini-dress or a pair of shorts to keep them light and easy.
On Net-a-Porter
for $695.
2. Jimmy Choo Zampa Suede Moccasin Ankle Boots: Moccasins can feel like goofy slippers, but when Jimmy Choo does them, they will bring you down to earth in a really good way.
On Net-a-Porter
for $650.
3. Ralph Lauren Eralita Woven Raffia Wedges: Stilettos will sink in the field, so a chunky wedge is the way to go if you crave height. Pale-pink raffia is sweet – be sure to wear these with something unexpected, like a splash of black leather.
On Luisa via Roma
for $749.
4. Bryan Blake Suede and Calf Straps High Sneakers: The frugal rendition of Isabel Marant's sought-after sneaker is ideal for kicking around as you chase your favorite bands. A hidden platform infuses height without forgoing all-day comfort.
On Luisa Via Roma
for $354.
5. Chloé Susan Beige Studded Booties: Now reaching cult status, these tri-buckled booties have studs to keep you stimulated and timeless rock 'n' roll allure.
On Ssense for $1,295.