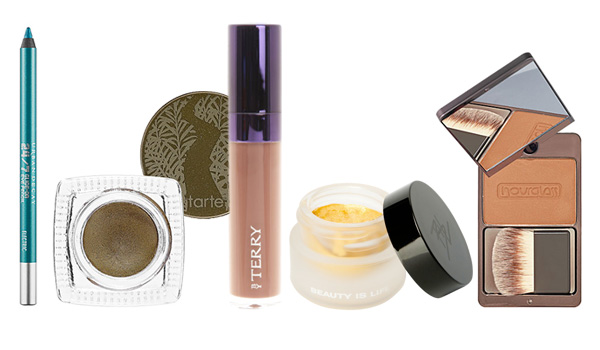 I don't have to tell you I'm more of "lounge in the shade" than a volleyball-spearing, sand-kicking, wave-catching kind of beach bunny. But even if I am just relaxing in the cabana, sometimes I want a light, natural face of makeup that guarantees to stay put. Here are the best products that guarantee to last come rain or shine, sports or sunbathing.
1. Urban Decay 24/7 Glide-On Eye Pencil: Once it glides on, it's not going anywhere. Feel free to dive, splash, and sweat to your hearts content in the hot sun, while this Vitamin E-enhanced liner keeps your eyes enhanced (plus, it's available in any color you could crave). At Sephora for $19.
2. Tarte Amazonian Clay Waterproof Cream Eye Shadow: Get natural about your eye shadow. Carnauba wax works as built-in primer, which increases hydration, and Amazonian clay keeps this shimmering khaki-green shadow in place all day. At Sephora for $19.
3. By Terry Gloss Delectation: Plumping and nourishing, this is surprisingly stubborn. Smack away, lick an ice cream cone, go snorkeling…your lips will still be delightfully tinted by the end of the day. At Barneys New York for $46.
4. Beauty is Life Facelight in Silver or Gold: Light up the shore! This waterproof highlighter will set your skin aglow – and let it keep on glowing. Set off a tan by applying it to your brow, cheek, and collarbones. At Barneys New York for $30.
5. Hourglass Superficial Waterproof Bronzer: Waterproof for extended wear, this blendable bronzer is made to outlast extreme heat and humidity. And it's free of bad stuff like parabens and sulfates. At Sephora for $45.