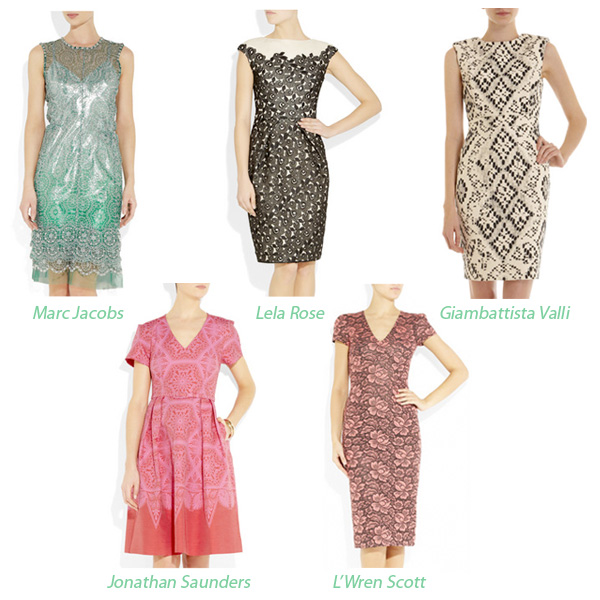 Who said anything about a desperate housewife? While quintessential '50s style used to be reserved for old-fashioned dames, it now has a new sense of charm, thanks to the refreshed empowerment of the modern woman. Now that we are comfortable as the dominant sex, we can have fun with the concept of playing the part of the "housewife," in our style and marriage. I love calling myself a housewife and it's cute because everyone knows who is in control in this house!  The dresses here have ornate detailing, but with simple shapes, they are modern in essence, just like the term "housewife".
1. Marc Jacobs Metallic Embellished Tulle Dress: Count on Marc to take broderie anglaise tulle and a vintage-y slip and make it look like it's been sent from the future. A shimmering silver quality makes it downright sizzling.
On Net-a-Porter
for $3,600.
2. Jonathan Saunders Alexandra Cotton and Silk-Blend Dress: A full, lightly pleated skirt and a print based on Victorian wallpaper sounds like a cocktail for one very prim dress, but this is more than pretty in pink – it's almost edgy!
On Net-a-Porter
for $1,695.
3. Lela Rose Lace-Appliquéd Linen Dress: Play the part of the martini-sipping hostess in this throwback number that exudes classic ladylike appeal, with an extra helping of texture to make it feel brand-new.
On Net-a-Porter
for $1,595.
4. L'Wren Scott Floral Lace Dress: Sweet lace gets a slinky makeover with a skin-hugging, curve-flaunting cut that is made for a seductress who dresses up for her man – but dresses for herself first and foremost.
On Net-a-Porter
for $2,860.
5. Giambattista Valli Lace Canvas Dress: How do you make lace feel clean, cool, and not too girly? By appropriating it to an oversized print on canvas, that's how.
At Barneys New York for $2,340.