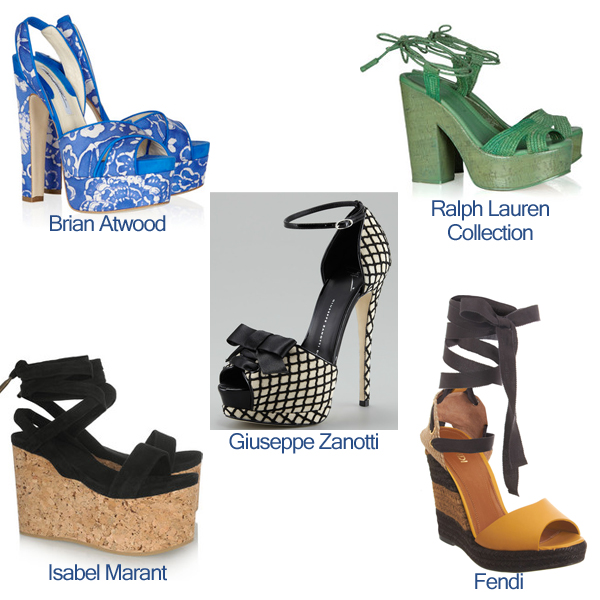 Think of Lolita and, well, aside from an older man's gravely unsettling preference for underage girls, heart-shaped sunglasses and saddle shoes come to mind. Whatever your take on Nabokov's vintage masterpiece of controversy, our rambunctious ingénue had style! At twelve-years-old, she wasn't quite old enough for high-heels (how times have changed!), but that's not to say the rebellious pre-teen wouldn't try to sneak on a pair or two. Here, some hot summer shoes she would love – and so should you:
1. Brian Atwood Manhattan Printed Twill Slingback Sandals: Lolita would have most definitely coveted these peep-toes – they look they are right off the pages of one of her glamour magazines.
On Net-a-Porter
for $885.
2. Ralph Lauren Collection Alberta Raffia Sandals: These seafoam platforms could be straight out of the 1950s or today, and that's what is so alluring about them. Not to mention the glazed cork heel and earthy, wrap-around straps.
On Net-a-Porter
for $525.
3. Giuseppe Zanotti Bow Peep-Toe Platform Pump: This girlish sandal is strong on sensual appeal, but a layered platform and laced-up ribbon keeps it from taking itself too seriously.
At Neiman Marcus for $930.
4. Isabel Marant Suzy Suede and Cork Wedge Sandals: The ultra-flat pitch of these platforms gives them a delightfully goofy, youthful air. Style them a la both Marant and Lolita, with a pair of casual crew socks.
On Net-a-Porter
for $610.
5. Fendi Espadrille Ankle-Tie Sandal: Lo would be swooning over these ballerina-esque espadrilles. Super-summery with a nod to romance is the way to go.
At Barneys New York for $535.