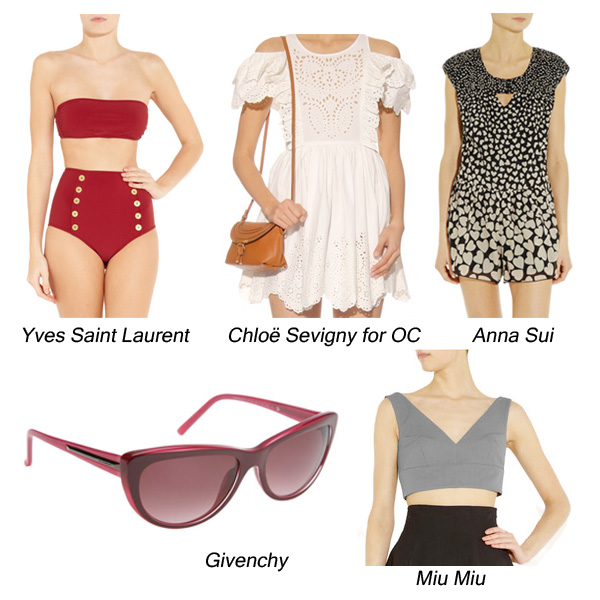 Dolores Haze might have just been 12-years-old, but the reluctant "nymphet" has proven herself to be a style icon for decades. And while the topic of this lust story may be uncomfortable at best, there's no denying the cultural influence. Penned in 1955, the star of one of the most controversial novels of all time is a vulgar-talking, gum-chewing pre-teen. She might have been careless when it came to dressing (undone shoelaces and chipped nail polish), but Lolita had an eye for girlish pieces that are right on-trend this season.
1. Yves Saint Laurent High-Waisted Bandeau Bikini: We first meet the tragic ingénue while she's sunning herself in her yard. This sailor-inspired bikini has classic appeal.
On Net-a-Porter
for $525.
2. Givenchy Cat-Eye Frames: Heart-shaped lenses are a natural choice, but let's give Lolita more credit and be chicer about it. Givenchy's red sunnies still have a spunky vintage air yet they're fit for the street.
At Barneys New York for $350.
3. Anna Sui Heart-Print Cotton and Silk-Blend Playsuit: For better or worse, she set hearts on fire. Anna Sui's print makes this as playful as playsuits come.
On Net-a-Porter
for $400.
4. Miu Miu Cropped Cotton Top: You can't do this look right without a crop-top in the mix. But a tasteful one! Wear Miu Miu's structured piece with a supremely high-waisted skirt to keep it sophisticated.
On Net-a-Porter
for $550.
5. Chloe Sevigny for Opening Ceremony Cotton Eyelet Dress: An impeccable blend of innocence and naughtiness, this frisky pinafore dress encompasses our character.
On My Theresa for $985.