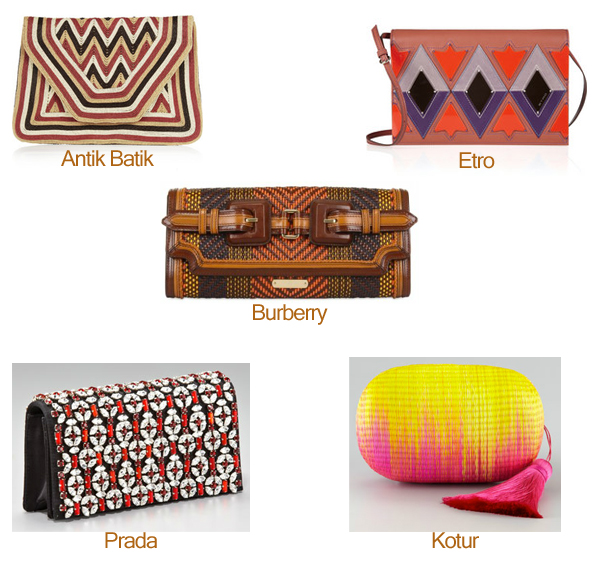 Size does matter – or rather, lack thereof. While busy patterns and colors don't usually translate so well on big totes, a scaled-down clutch is a great way to experiment with print. Ironically, the small size of a clutch allows for lots more room to be wild, whether you want to go embellished, get graphic, or embrace a weave, these all burn with global-inspired flair. Whatever you choose, why not take a small risk?
1. Antik Batik Paco Cord-Embellished Leather Envelope Clutch: This frugal find has a worldly, not cluttered feel. Cord-covered leather comes together for stripes and zigzags that entice the eye.
On Net-a-Porter
for $115.
2. Etro Patterned Leather and Resin Clutch: I'm loving the way Etro has stitched geometric resin bits on their terracotta leather. Lined with a paisley-print, there's a lot to look at on this fold-over clutch.
On Net-a-Porter
for $1,240.
3. Burberry Prorsum Woven Leather Clutch: For a big bag, buckles, weave, and multiples hues would be too much, but on this slim clutch, it's an high-impact yet neutral win.
On Luisa via Roma
for $1,295.
4. Prada Raso Jeweled Clutch: Red and clear jewels set on black satin create an ornate geometric pattern for this evening incarnation. A dizzying yet glamorous take on print.
At Neiman Marcus for $2,100.
5. Kotur Barnes Raffia Clutch with Tassel: Clutches don't get much more optimistic than tie-dyed raffia in lemon and hot pink. And surprise! Discover metallic chartreuse lining when you pop this tasseled box open.
At Neiman Marcus for $450.