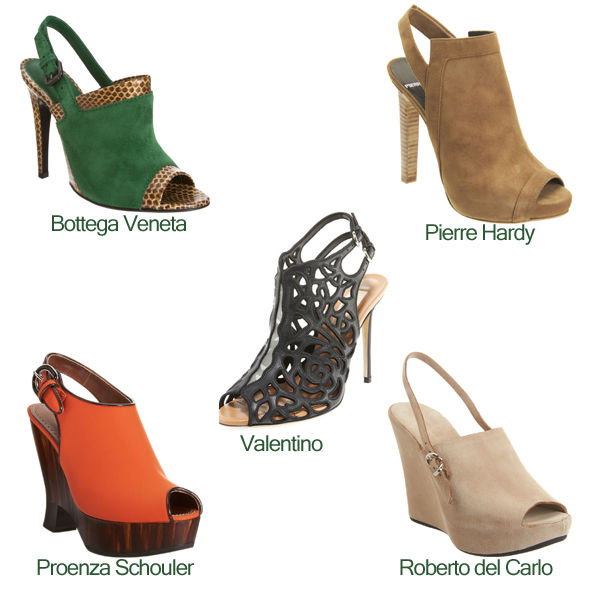 Just because it's summer doesn't mean it's time for nothing but strappy bright sandals, all day, everyday. But if you're a boots-and-jeans kind of girl, full-coverage ankle boots are a bit heavy, not to mention hot (although the right ones can look cool and relaxed with shorts). A bootie that's been aired out with a slingback and peep-toe is the perfect compromise – with no actual compromising required. Half a boot and double the style amounts to your ideal alternative.
1. Bottega Veneta Snakeskin Trim Peep Toe Sandal: Bottega goes va-va-voom with unadulterated sophistication. I love their power duo of bright green suede and natural snakeskin. At Barneys New York for $940.
2. Pierre Hardy Platform Slingback: Angular style in spades. A geometric shape combined with a smart wood heel is crisp and sharp. At Barneys New York for $1,095.
3. Valentino Rose Laser-Cut Bootie: Intricate cutouts offer allover breathing room. The black evening shoe has gained a much-needed sense of airiness. At Bergdorf Goodman for $975.
4. Proenza Schouler Slingback Platform Wedge: This is pure retro fun. Orange neoprene on glossy wood is a summery blast all by itself. The rest of your look will follow suit. At Barneys New York for $1,385.
5. Roberto del Carlo Slingback Wedge: This is a no-fuss neutral option that keeps your heel and ankle looking light and bare, without skimping on coverage. At Barneys New York for $475.