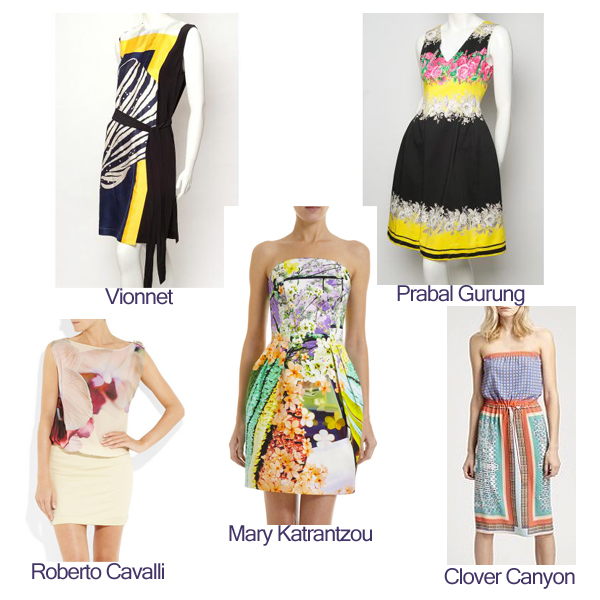 As laidback as most summer parties are, there's a strict criterion for the summer party dress! The right choice has fun, high-spirited colors, a bold or eye-catching print. It's not
too structured and totally unexpected. Whether you're away on vacation or hitting a backyard BBQ (a fancy one!), make sure you bring the heat and fireworks to the party yourself.
1. Vionnet Sleeveless Bow-Print Dress: Vionnet is known for their longstanding way with ruched fabrics and elegant bows. This brings modern new meaning to their be-bowed dress. At Kirna Zabête for $2,160.
2. Prabal Gurung V-Neck Rose Dress: Prabal is becoming a wardrobe staple when it comes to party dressing. Mix graphic stripes, artful flowers, and a girlish shape, and you have an instant classic. At Kirna Zabête for $1,850.
3. Roberto Cavalli Orchid-Print Silk-Georgette and Stretch-Crepe Dress: Like a blousy tank and mini-skirt pairing, this effortless combines volume and sleekness. Topped with a magnified orchid, it's picture-perfect. On Net-a-Porter
for $1,310.
4. Mary Katrantzou Balalaika Strapless Puff Dress: Bring the garden party with you! Sunshine, color, and in-bloom foliage galore, this is utterly optimistic, just the way a fun summer dress should be. At Barneys New York for $2,045.
5. Clover Canyon Geo Scarf Foulard Strapless Dress: A kerchief-inspired pattern brings country-esque ease to a casual silhouette that's ideal for hot days and relaxed affairs. At Saks Fifth Avenue for $207.