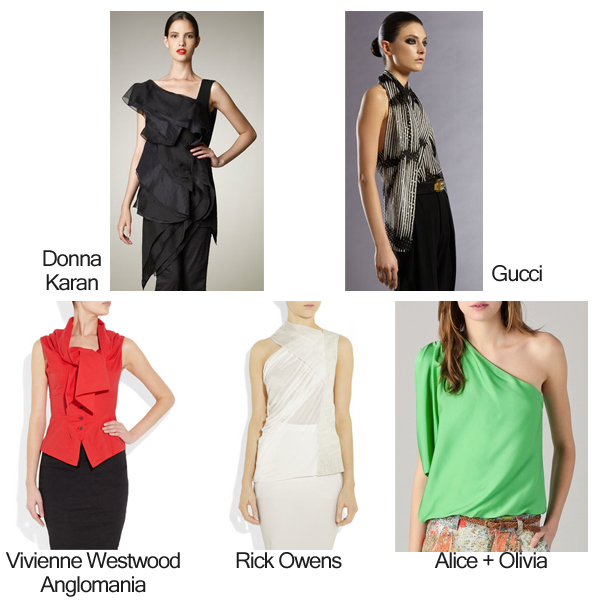 If you have a closet full of tops that not only complete an outfit but actually are the outfit, then your time in the morning is probably spent worrying about what kind of hair day you're going to have, not on stressful wardrobe quandaries.
With tops likes these, you can wear a pair of jeans (nice jeans) or something equally easy (like leather pants…not that they are necessarily easy, but they are versatile) and you're basically done. Just slide on a hot heel. With statement-making tops, you don't even have to wear painfully sexy ones; any heels will do. You'll look like you've obtained a live-in stylist overnight. So even though these might be pricey, they are still cheaper than hired help! And not to worry, I have a couple of frugal snob options in the mix.
1. Donna Karan Tiered Asymmetric Tunic: Layers of black taffeta have a darkly romantic effect. Frothy and voluminous, this is an instant dose of femininity.
At Bergdorf Goodman for $1,695. Or check out the less pricey version by Dusan
for $430.
2. Gucci Cross Scarf Top: Put on the glitz with Gucci's fabulously glam halter that has been delicately crafted from two sequin-embellished scarves. At Bergdorf Goodman for $775.
3. Vivienne Westwood Anglomania Sunday Bow Necktie Cotton Blouse: Instant structure, instant chic. A trademark look from Westwood, you can toy with the bow of this fitted top, leaving it full or tucking it into the neckline. On Net-a-Porter
for $310.
4. Rick Owens Draped Jersey, Chiffon and Leather Top: If anyone knows how to drape a slinky top, it's Rick. Leather, silk, and viscose jersey all come together to sensual effects. On Net-a-Porter
for $790.
5. Alice + Olivia Hannah One Shoulder Top: As perky as it is wallet-friendly, this splash of color looks soft and fluid, not forced. On ShopBop
for $253.